Invisalign Teen
Get the confidence that comes when you achieve a straighter smile with Invisalign Teen clear aligners at Guildford Orthodontic Centre in Surrey.
---
Straighten your teeth without anyone really knowing!
Invisalign Teen aligners are removable clear plastic aligners, which means casual observers would be hard-pressed to notice you are straightening your teeth.
You can still eat and drink what you want. Also, you can brush and floss normally to maintain healthy gums and teeth, and there are no wires, metal or brackets to cause mouth abrasions.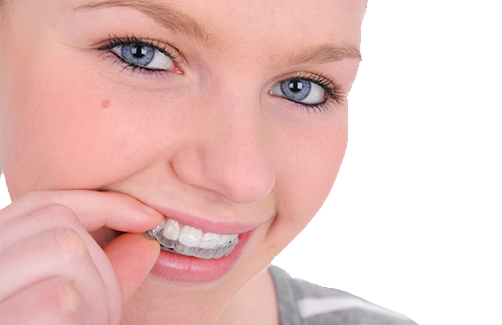 Invisalign Teen – designed with teens in mind.
The designers of the Invisalign Teen treatment process consulted with orthodontists, parents and teens themselves to custom-design a system just right for the dental needs of teenagers.
Each aligner has a blue-to-clear compliance indicator that serves as a gauge to how long each aligner should be worn. The indicator will turn clear when it needs to be replaced.
In addition, patients are provided with six free replacement aligners in case some are lost or broken. Invisalign Teen may be a great teeth-straightening option for your teen's busy lifestyle!
What is Invisalign Teen?
Clear way to help straighten your teeth without braces.
Series of clear, removable, custom-made aligners.
Uses no metal wires or brackets.
Custom-made for comfort.
How does Invisalign Teen work?
Wear each set of aligners for about two weeks.
Remove only to eat, drink, brush and floss.
Your teeth will move gradually each week.
Visit us every 8-10 weeks.
Total treatment time averages 6-15 months.
Average number of aligners is between 18 and 30.
What conditions does Invisalign Teen treat?
Invisalign Teen can help treat a broad range of dental and orthodontic conditions, which, in the past, were usually treated with traditional braces. These conditions include:
Overly crowded teeth
Widely spaced teeth
Crossbite
Overbite
Underbite
Want to find out if Invisalign is right for you? Fill out our Smile Assessment to get started!